NASCAR: William Byron Wins Quaker State 400 at Atlanta – Full Race Results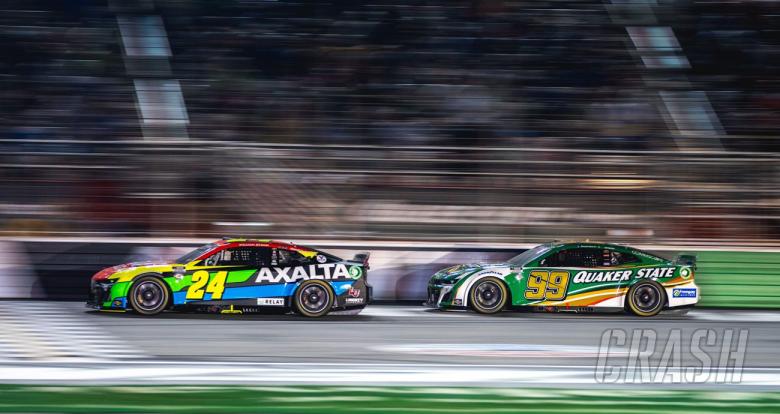 Full race results from the Quaker State 400 at Atlanta, won by William Byron.
2023 Quaker State 400 at Atlanta - Race Results
Pos 
Driver 
Team 
Manufacturer
1
William Byron
Hendrick Motorsports
Chevrolet
2
Daniel Suarez
TrackHouse Racing
Chevrolet
3
AJ Allmendinger
Kaulig Racing
Chevrolet
4
Michael McDowell
Front Row Motorsports
Ford
5
Kyle Busch
Richard Childress Racing
Chevrolet
6
Brad Keselowski
RFK Racing
Ford
7
JJ Yeley
Rick Ware Racing
Ford
8
Justin Haley
Kaulig Racing
Chevrolet
9
Ryan Blaney
Team Penske
Ford
10
Ricky Stenhouse Jr
JTG Daugherty Racing
Chevrolet
11
Erik Jones
Legacy Motor Club
Chevrolet
12
Austin Cindric
Team Penske
Ford
13
Denny Hamlin
Joe Gibbs Racing
Toyota
14
Chase Elliott
Hendrick Motorsports
Chevrolet
15
Chris Buescher
RFK Racing
Ford
16
Todd Gilliland
Front Row Motorsports
Ford
17
Joey Logano
Team Penske
Ford
18
Aric Almirola
Stewart Haas Racing
Ford
19
Ty Dillon
Spire Motorsports
Chevrolet
20
Austin Dillon
Richard Childress Racing
Chevrolet
21
BJ McLeod
Live Fast Motorsports
Chevrolet
22
Chase Briscoe
Stewart Haas Racing
Ford
23
Christopher Bell
Joe Gibbs Racing
Toyota
24
Ryan Preece
Stewart Haas Racing
Ford
25
Bubba Wallace
23XI Racing
Toyota
26
Alex Bowman
Hendrick Motorsports
Chevrolet
27
Tyler Reddick
23XI Racing
Toyota
28
Harrison Burton
Wood Brothers Racing
Ford
29
Martin Truex Jr
Joe Gibbs Racing
Toyota
30
Kevin Harvick
Stewart Haas Racing
Ford
31
Corey LaJoie
Spire Motorsports
Chevrolet
32
Cole Custer
Rick Ware Racing
Ford
33
Noah Gragson
Legacy Motor Club
Chevrolet
34
Ty Gibbs
Joe Gibbs Racing
Toyota
35
Ross Chastain
TrackHouse Racing
Chevrolet
36
Kyle Larson
Hendrick Motorsports
Chevrolet
37
Austin Hill
Beard Motorsports
Chevrolet
For the second consecutive weekend, the NASCAR Cup Series race ended earlier than expected. Last weekend in Chicago, the lack of daylight forced the series to shorten the race, and tonight it was Mother Nature that delivered rain showers in Atlanta. William Byron was the lucky driver that found himself at the front of the pack when the rain began to fall, and he collected his series-leading fourth victory of the season.
The win was an improbable one for the driver of the No. 24 Chevrolet, as he was issued a penalty during his first pit stop, which sent him to the back of the field. Shortly after the restart, he was spun into the infield grass by Corey LaJoie. He overcame all of that and got back to the front on a great strategy call, and he was able to fend off the competition. Hendrick Motorsports has now won three of the last four races at Atlanta Motor Speedway.
Daniel Suarez was unable to deliver a third consecutive victory for Trackhouse Racing, but still walked away with a season-best runner-up finish. AJ Allmendinger grabbed a 3rd place finish for Kaulig Racing as Chevrolet swept the top three and took four of the top five spots. Michael McDowell earned a 4th place finish while Kyle Busch rounded out the top five on Sunday night. The rest of the top-ten went to Brad Keselowski, JJ Yeley, Justin Haley, Ryan Blaney, and Ricky Stenhouse Jr.
Erik Jones had an eventful night, as he was involved in several incidents, but managed to finish 11th. Austin Cindric led laps and was out front for most of the race and finished 12th. Denny Hamlin had a couple of spins during the event, but finished 13th as the only Toyota driver inside the top 22. Chase Elliott was a non-factor in this race and ended up finishing 14th as he tries to point his way into the playoffs.
One of the biggest moments in the race came on Lap 91 when Erik Jones and Kyle Larson got together. Larson spun and blew a right-front tire on his way back to pit lane. Larson wasn't the only title contender that had trouble on Sunday night. Tyler Reddick was involved in two incidents and finished 27th. Fellow Toyota driver Martin Truex Jr also battled at the front for most of the race before a spin on pit road and crash on Lap 122 led to a 29th place finish.
Kevin Harvick made his final start at Atlanta, where he scored his first career Cup win and holds nearly every statistical category. His night was going well until he got chopped by Denny Hamlin on Lap 154 that sent him into the infield grass. The caution flag never came out, and he was relegated to a 30th place finish.
Previous Atlanta winners
2023: Joey Logano
2022: Chase Elliott
2022: William Byron
2021: Kurt Busch
2021: Ryan Blaney
2020: Kevin Harvick
2019: Brad Keselowski
2018: Kevin Harvick
2017: Brad Keselowski
2016: Jimmie Johnson
2015: Jimmie Johnson
2014: Kasey Kahne
2013: Kyle Busch
2012: Denny Hamlin
2011: Jeff Gordon
2010: Tony Stewart