Christian Horner's subtle jibe about infamous Max Verstappen-Lewis Hamilton 2021 crash: 'At least Max came through Copse'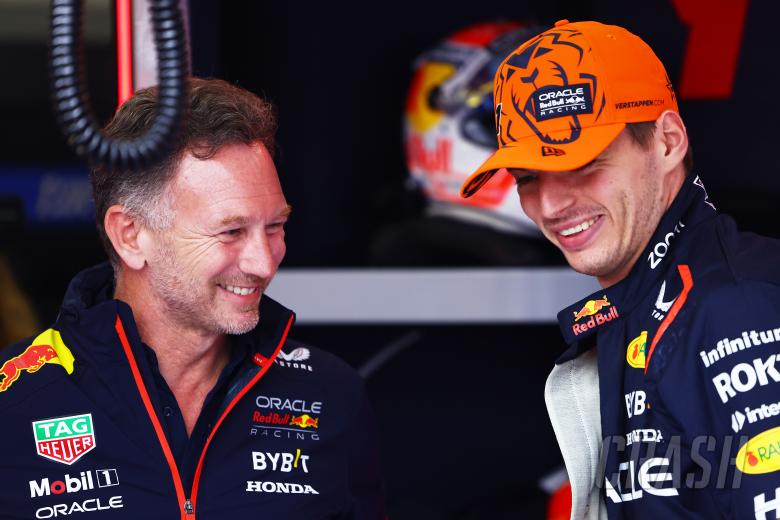 Christian Horner made light of Max Verstappen and Lewis Hamilton's infamous 2021 crash at Silverstone following the Red Bull driver's victory at the F1 British Grand Prix.
Hamilton and Verstappen came to blows amid a ferocious battle for the lead on the opening lap at Silverstone two years ago, with Verstappen ending up in hospital after a huge crash while his arch rival won the race. 
The controversial incident prompted a furious reaction from Horner, who labelled Hamilton as "desperate" and "completely out of order". 
24 months on and Horner couldn't resist a playful dig when asked what was going through his head when he saw Verstappen lose the lead to McLaren's Lando Norris at the start of Sunday's race. 
"My thoughts were 'not great', but at least he came through Copse!" Horner joked. 
"Once he was through Copse I thought at least I can go over to the pit wall and from there it was just a matter of settling in and staying in the DRS."
Asked if the memories of Verstappen and Hamilton's clash were now history, Horner replied: "Look, it's history now but it's always nice to see a car come through there on the first lap." 
Verstappen regained the lead from Norris on lap five and cruised to his sixth consecutive victory - his eighth in 10 races this season. 
Explaining his start, Verstappen said: "Just a lot of wheelspin, so as soon as that happens you lose so much drive all the way to Turn 1.
"Then I just tried to stay out of trouble in Turns 3 and 4 and then I had a good battle with Oscar into Copse and I had to stay on the outside, but it all worked out."