Norris relished going from watching Hamilton on TV aged seven to racing him at Silverstone 15 years later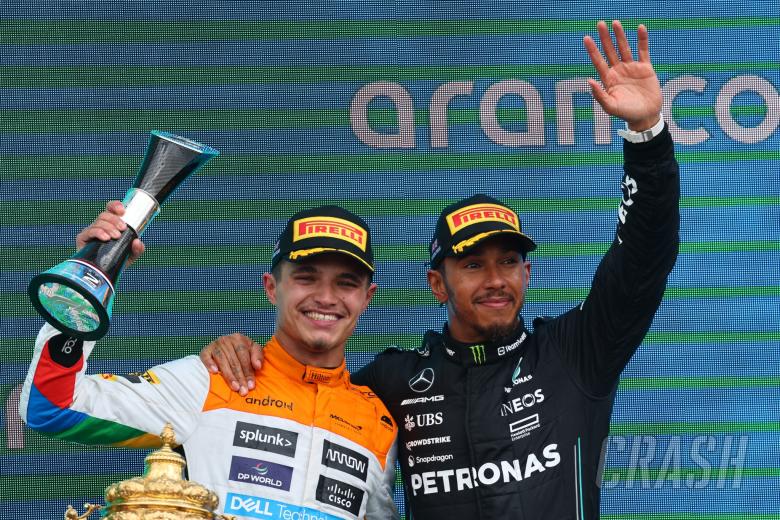 Lando Norris says it was an "honour" to battle fellow Briton and early F1 inspiration Lewis Hamilton for the podium positions at the British Grand Prix.
McLaren's Norris fought off an attack from Hamilton following a late Safety Car to beat the seven-time world champion to second place behind Max Verstappen's Red Bull and give the 160,000-strong home crowd a double British podium to celebrate. 
There was a wholesome exchange in the FIA press conference between Hamilton and Norris when the latter reminisced about his early memories of watching Hamilton race at Silverstone when he was just seven years old. 
"You're pretty old, mate!," Norris joked to Hamilton. "I was seven years old. I'd never been to a race in Formula 1, 2017 was my first Formula 1 race I went to, that was here with McLaren. 
"Until then, I'd only ever watched on TV. There were times, that was it, 2007, 2008, seeing the beautiful teamwork of Lewis and Fernando… [laughs] It reminds me of all my relationships with my teammates. 
"Yeah, that is genuinely still what made me want to become a racing driver today, and to be sat here and fighting and being a Formula 1 driver. I guess little did I know that Lewis would still be here 15 years later, and still going strong. 
"Fair play to him, it's an honour to be able to race with these guys who have created history and been some of the best drivers ever that have come through Formula 1. 
"It's special, and I guess I want to be someone who can join in on these battles and be part of all of this and create some of my own history. It's an honour, a privilege I guess in many ways, and exciting at the same time."
Norris, who is 15 years younger than his compatriot, said he relished his fight with Hamilton.
"It was a very good one, it was exciting," he added. "I really did want to hold on to P2, so I did everything I could.
"A lot of it was trying to get my temperature into the tires for the restart. But luckily, the first half of the lap, they were very strong. Even in qualifying, they were up on us all the way to the Maggots/Becketts section. We were just very good always in the last sector. Not the best maybe with DRS, that's where Red Bull are extremely quick. 
"They're very good in the first half, so Turn 3, Turn 4, Turn 6, Turn 7, Lewis could quite easily get on me, but then we've always been very good in high speed, and now it's a very good strength of ours. 
"It keeps the tyres in a good condition, and I was a lot of laps quite easily flat through Turn 9, and yeah, two downshifts into Maggots and Becketts. I could always give myself that safety margin I wanted. It was nice coming out side by side. It was close when I saw him throw it up the inside at 7. I'm sure all the fans were loving it at the same time. 
"I chose a slightly lower downforce level yesterday, which was a bit of a risk, but I thought there might be a racing situation where one or two kph might have helped me out, and today it did exactly that. I'm thanking my own decision to choose a lower downforce."
Not for the first time, Hamilton was very complimentary about Norris' race craft. 
"He's very talented naturally as you can see," he said. "I think it's great when you can have close battles like that, and rely on the driver that you're competing with to be hard but fair. 
"So there was never an element or a moment where we thought we were going to come together or anything like that. That's what motor racing is all about. 
"As he wanted to hold on to second, I wanted to get that second. But it wasn't meant to be today. Just get our heads down and keep pushing, and hopefully we'll have some more battles moving forward."