NASCAR: Jenson Button Shows Speed at Chicago Street Race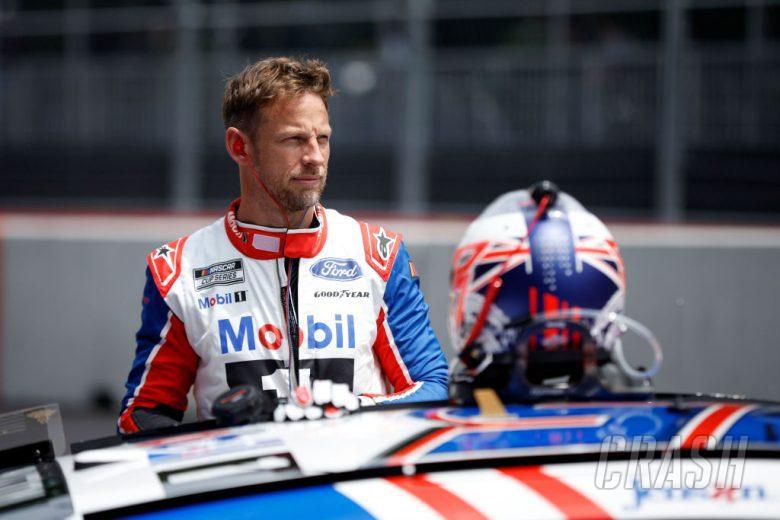 Former Formula One World Champion Jenson Button made his second start in the NASCAR Cup Series on Sunday in Chicago.
Jenson Button made his second career NASCAR Cup Series start on Sunday, in what was the inaugural street race in downtown Chicago. The weekend began on a positive note, as Button qualified his No. 15 Ford Mustang 8th after advancing to the final round on Saturday. That was much better than his debut in March when he qualified 24th at Circuit of The Americas.
Overall, Button was happy with the performance. "P8 isn't too bad. I'm pretty happy with that. I just wish we got a clean run in Q2. I would have had a couple more spots. It wouldn't have been top-three, but it would have been a couple more spots." The only Ford ahead of him was Michael McDowell, who qualified 6th for Front Row Motorsports.
The race started out well and Button was able to finish inside the top-ten in Stage 1. He never made it to the front to lead laps, but he was mixing it up with the best of the best in the series. The 2009 Formula One World Champion gave Rick Ware Racing something to smile about as he made progress through the middle stage of the race. The track was under water when the drivers climbed into their cars, and the circuit quickly evolved from a wet race to a dry one.
As teams began to hit pit road for slick tires, Button was spun from behind while entering the pits. That came on Lap 23 when he was running inside the top-ten. That incident sent him back to the 24th position, making for a challenging path back towards the front of the field. He simply could not find his way through the carnage that played out over the next 50 laps and ended up in 21st when the checkered flag waved.
It was definitely not the result he was looking for, but he knows the opportunity is there. He witnessed it first-hand as Shane Van Gisbergen went on to win in his NASCAR debut. Button was not surprised to see the three-time Supercars champion get the victory. "I think Shane did a really good job. First time in a Cup car, but he does have the expertise of a street circuit in a heavy car. I think he was always going to be quick."
"I was enjoying it until I got turned around on the way into the pits. It was a real shame. I think we pitted at the right time. We went from wets to dries. It was a tricky choice. I couldn't see out of the wind screen it was so dirty, but I think it was the right choice. When we got turned around, we lost 15 places plus, so that made it very difficult, but it was fun out there. I had some good fights. I got overtaken by some, but I overtook a lot more, so it was enjoyable."
After his first race at COTA, and the NASCAR Garage 56 performance at the 24 Hours of Le Mans, Button has showed steady improvement behind the wheel. Today was another step in the right direction and he has another race lined up next month on the Indianapolis Motor Speedway road course. Button scored three top-ten finishes there in seven starts in Formula One, and would become the first British driver to win a NASCAR race should he find victory lane there.