2023 British Superbikes Snetterton Race Results (3)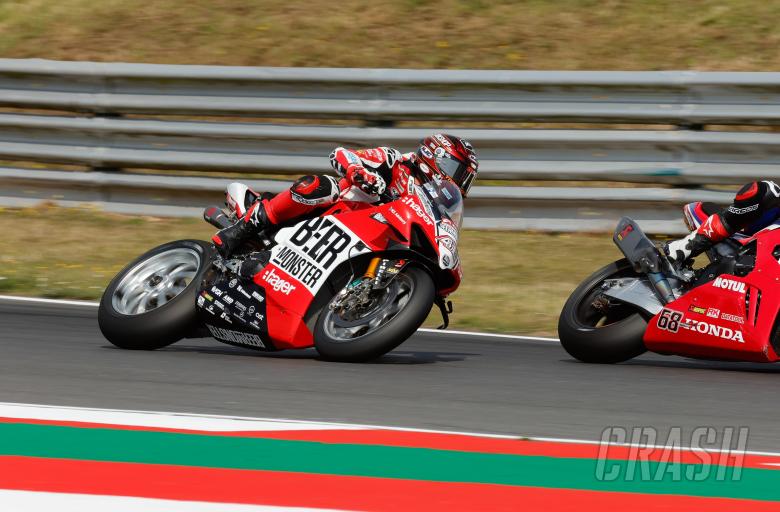 Results from race three, round five of the 2023 Bennetts Superbike Championship at Snetterton.
It was treble joy for Tommy Bridewell after a four way battle, with Josh Brookes electrical problems seeing him retiring from the lead in the final race of the weekend at Snetterton.
Once again from first on the grid Bridewell failed to hold on at the front, with Brookes taking over.
Looking in control, the Australian had his hand up at the start of lap ten into turn one as he desperatley tried to alter his bike and get the electrics working again.
It was initially team-mate Glenn Irwin who took over at the front still in the hunt for his first podium of the weekend, with Leon Haslam giving chase.
Bridewell was sat in behind and waited patiently, making his first move for victory on the penultimate lap. The BeerMonster Ducati bikes battled away, bringing the already close Haslam and Ryan Vickers into a four way battle for the win.
Bridewell made his next lunge count. On the final lap he pushed his way past, leading out of the Bomb Hole as the pressure sent Irwin wide. The Northern Irish rider still did not give in and tried the slipstream to the line, but the #46 held on to win by just 0.032s.
 
 
 

British Superbikes Round Five - Snetterton - Race results (3)
Pos
Rider
Nat
Team
Time
1
Tommy Bridewell
GBR
BeerMonster Ducati
28m 58.851s
2
Glenn Irwin
GBR
BeerMonster Ducati
+0.032s
3
Leon Haslam
GBR
Rokit BMW Motorrad Team
+0.410s
4
Ryan Vickers
GBR
Lami OMG Racing Yamaha
+0.763s
5
Christian Iddon
GBR
Oxford Products Ducati
+2.504s
6
Jason O'Halloran
AUS
McAMS Yamaha
+3.230s
7
Lee Jackson
GBR
Cheshire Mouldings Kawasaki
+3.616s
8
Kyle Ryde
GBR
Lami OMG Racing Yamaha
+7.089s
9
Danny Kent
GBR
Lovell Kent Racing Honda
+9.214s
10
Tito Rabat
ESP
McAMS Yamaha
+10.183s
11
Charlie Nesbitt
GBR
MasterMac Honda by Hawk Racing
+11.357s
12
Jack Kennedy
IRL
Mar-Train Racing Yamaha
+11.639s
13
Max Cook
GBR
Cheshire Mouldings Kawasaki
+12.683s
14
Josh Owens
GBR
Crendon Honda by Hawk Racing
+19.771s
15
Tom Neave
GBR
Honda Racing UK
+28.548s
16
Dean Harrison
GBR
DAO Racing Kawasaki
+31.966s
17
Hector Barbera
ESP
TAG Racing Honda
+42.676s
18
Luke Mossey
GBR
Tactix by Lloyd & Jones BMW
DNF
19
Jack Scott
GBR
Rapid CDH Racing Kawasaki
DNF
20
Josh Brookes
AUS
FHO Racing BMW Motorrad
DNF
21
Bradley Perie
GBR
Lee Hardy Racing Kawasaki
DNF
22
Liam Delves
GBR
Rapid CDH Racing Kawasaki
DNF
23
Storm Stacey
GBR
Starline Racing Kawasaki
DNF
24
Peter Hickman
GBR
FHO Racing BMW Motorrad
DNF
25
Franco Bourne
GBR
Honda Racing UK
DNF
26
Danny Buchan
GBR
Synetiq BMW Motorrad
DNS

 
 
It is Bridewell's first ever triple win and the first by anyone so far this season.
Behind the duo, Rockit BMW's Leon Haslam managed to hold off Ryan Vickers for the final podium spot.
Vickers just misses out on home podium
Ryan Vickers started on the wrong foot, and was gifted a second chance in race two when the safety car came out.
Being able to rejoin allowed him to set the second fastest lap and start the third race from the front row, with less work to do and more hope of success.
The LAMI OMG Yamaha rider got such a good start he lead into the first corner, though he eventually faded back into the chasing group, then hunting down Brookes.
A permanent fixture at the front, his reversal of fortunes in the Snetterton 300 was complete with fourth but couldn't quite land a home rostrum visit. As Haslam escaped he had pressure coming in from behind to deal with.
That was from a rapidly approaching Christian Iddon, who was almost back in play as he took advantage of all the in-fighting ahead to catch the leaders on his way to fifth on the Oxford Poducts Ducati.
Jason O'Halloran won his battle with Lee Jackson for sixth on the McAMS yamaha, with the #14 once again the best placed Kawasaki rider for Cheshire Holdings.
Kyle Ryde once again found himself having to make up places from his grid slot, this time rising to ninth by the chequered flag on the second OMG Yamaha in a tough meet for the title hopeful.
Danny Kent fell back after a good start over the closing laps to finish ninth for his Lovell Kent Honda team, while Tito Rabat closed out the top ten completing a solid first time racing Snetterton with McAMS Yamaha.
Charlie Nesbitt (MasterMac Honda) was the best of the rookies, holding off Jack Kennedy (Mar-Train Yamaha) in the run in to the line for eleventh.
The remaining points on offer went to Max Cook (Cheshire Mouldings Kawasaki) in 13th, who was clear of Josh Owens (Crendon Honda) in 14th who in turn had his own gap over Tom Neave (Honda Racing UK) in a distant 15th.
Dean Harrison and Hector Barbera were the only other finishers.
Official British Superbike Snetterton Records:
Lap Record: Tarran Mackenzie (Yamaha) 1m 47.029s (2022)
2022 at Snetterton:
Round eight - pole: Christian Iddon (2ndKyle Ryde, 3rd Tommy Bridewell)
Race One:
1:Bradley Ray
2:Tarran Mackenzie
3:Kyle Ryde
Race Two:
1:Bradley Ray
2:Tarran Mackenzie
3:Tommy Bridewell
Race Three:
1:Bradley Ray
2:Peter Hickman
3:Tarran Mackenzie
Last Round - Knockhill:
Pole: Glenn Irwin (2nd Ryan Vickers, 3rd Jason O'Halloran)
Race One:
1:Glenn Irwin
2:Ryan Vickers
3:Jason O'Halloran
Race Two:
1: Kyle Ryde
2:Tommy Bridewell
3:Jason O'Halloran
Race Three
1:Glenn Irwin
2:Tommy Bridewell
3:Ryan Vickers
Crashes and injuries
Danny Buchan was absent for the final race after his race two crash,with an update that he had been transferred to Norfolk and Norwich Hospital for further scans and assessments after suffering a concussion.
Franco Bourne and Peter Hickman had an early exit, leaving Hickman visibly frustrated after also crashing out of race two.
Storm Stacey soon followed, as did Liam Delves and Bradley Perie. Josh Brookes only has six laps left when he was forced to retire from the lead, while Jack Scott slid off at into Murray's on the penultimate lap. Luke Mossey also failed to finish.
Where does that leave the championship?
Tommy Bridewell had his best ever race weekend and that was reflected in the title table, with the 34 year old once again extending his lead, now with a total of 217, a gap of 25 back to Glenn Irwin.
Despite his struggles Kyle Ryde moves back into third after Josh Brookes retired, they sit on 171 and 168 respectively.
Another podium from Leon Haslam sees him close in on the duo, now with a tally of 164.