British Superbikes: Triple triumph hands advantage to Bridewell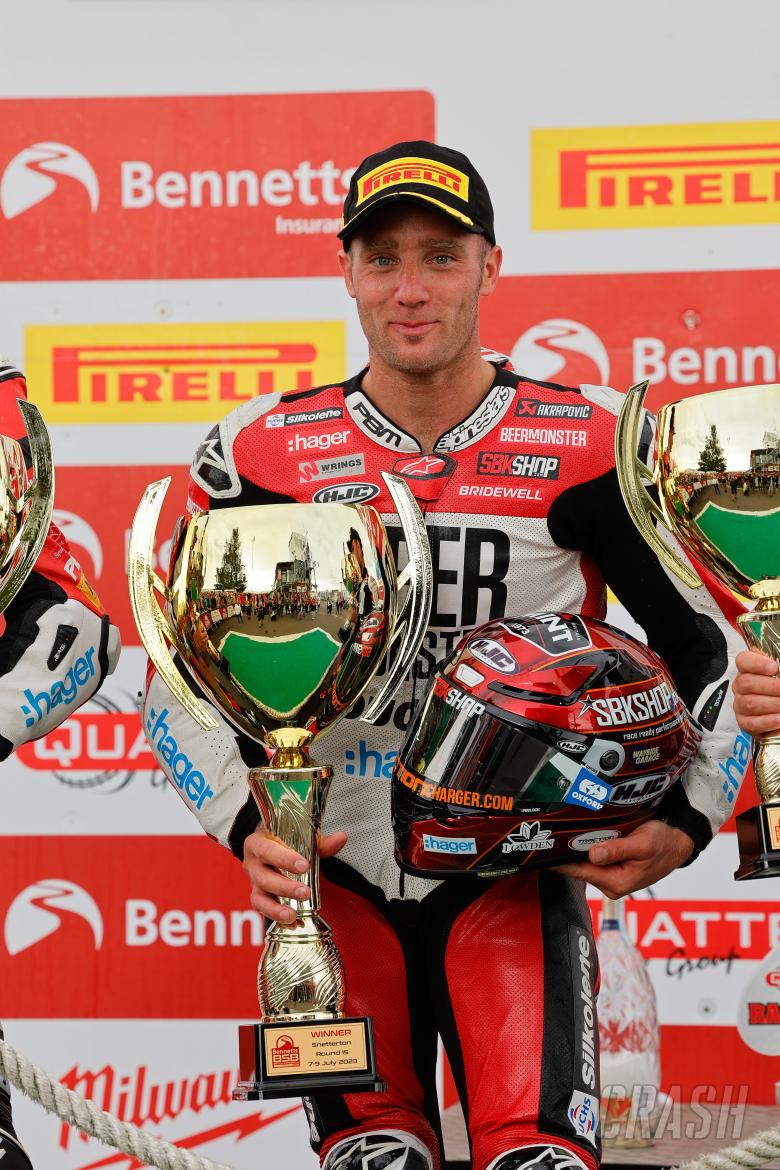 A first triple win to dominate the Snetterton British Superbike race weekend saw the already title leading Tommy Bridewell cement his standing with a career best performance.
The Snetterton round of BSB truly belonged to Tommy Bridewell as he extended his championship lead in style with a new found aggresssive approach which saw him win all three races at the Norfolk track.
The PBM rider started from pole more than once but have to fight back in every race - the first saw him eventually goon to win by a margin, the second was a post-red flag second chance fightback , while the third saw him scrap with his BeerMonster Ducati teammate, Glenn Irwin.
No matter the style of the race the outcome was the same, Bridewell came out on top.
'We've had little bit of smack talk over the weekend'
The races all being so different meant there was no soild plan to win other than get ahead:
"It's so hard to make a game plan in general in any form if racing really, you never know what can happen and what hurdles you get and so on and so forth. I had an idea that if I could get away and get a start - brilliant, fantastic - but that wasn't obviously the plan. Got away second and felt clean and said to myself 'tyre, I need to save my tyre,' because here is quite notoriously hard on the tyre".
Racing with a teammate who is almost on par has been difficult for both Bridewell and Irwin, with talk of the #46 'riding through' said in haste, not taken well and eventually taken back:
!I got the pass done on Leon, then obviously Glenn was in my sights, we've had little bit of smack talk over the weekend probably more so on my side than his and it got a little bit heated in morning warm-up after the chequered flag - its all kept clean, it's all kept fine I think Glenn is a phenomenal rider, a very fierce competitor but I've been round the block a few years, been there seen it all and I just keep my head down and focus on what I'm doing.
The fans have wanted to see me and Glenn go toe to toe for a few rounds now, he out-rode me at Knockhill and did a phenomenal job and I was happy to pick up the podiums there - its not somewhere I'm that comfortable and confident on the bike".
Bridewell picked up his first ever triple win anywhere - it is also the first triple for anyone this season and with the points awarded altered for 2023, means he holds a decent sized advantage now overall, thought the more aggressive style was necessary to gain those hard fought wins:
To get my first ever triple win is something that I've dreamt of for a long time, we most definitely do not get complacent my side of the garage, I said to Paulo, my crew chief, we've won two races on the trot I feel brilliant, the bike is working , lets keep our feet on the ground, if I can win this race I will,"
' I'll have to repeat it now, he won the battle but it's about the war!'
After coming away from both of the previous two races off the podium, second saw Glenn Irwin back at the front after a more positive time back in Knockhill. When Josh Brookes retired from the lead with mechanical issues in race three, it was the #2 who had inherited the front spot:
"To come away with second, you know, Tommy's done a fantastic job all weekend, he has had that something - I was surprised how long I was at the front of the race, I expected him earlier!"
Irwin explained the generally closer nature of racing at Snetterton, with all the bikes holding different advantages in different parts of the track and how that feels when you and your teammate are so closely matched:
"For sure we made a step… we were quite fast in that race -chatting with the guys, it's very much like a see-saw out there, the BM's strong this area , the Ducati is strong here, - despite me and Tommy being on the same bike, it can go corner by corner and you take chunks out of each other, but obviously he won three races so he had a little bit in hand somewhere else!
After giving everything in both of the previous races only to lose out massively it would have been understandable if Irwin had chosen a different route in race thee, but he again left it all on track, desperate to try and pass Bridewell, all the while aware of what was unfolding behind to finish on the podium, but this time his determination paid off:
"The last lap was good - I never give up, really annoyed with the mistake at turn two, but I was starting to struggle to get stopped… I was never giving up , dad always says 'time to think about it, time to do it', so any half a chance I was doing it.
I think in hindsight we should have had three seconds this weekend, we lost Friday with a problem with a part on the bike, that's no excuse because, I'm not saying I would have won races,but I said it at Knockhill and I'll have to repeat it now, he won the battle but it's about the war!"
Leon Haslam also saw his Snetterton get off to a shaky start but dug in to end his time on track with two podium finishes, including third in a very competitive race three:
"I can't be unhappy, yesterday was a disaster, we had a lot of little gremlins, we knew we had the pace for that sort of place, we're still missing a little bit to fight, but certain parts of the track we're super strong
I still can't fight like I want but we'll make the steps needed going into Brands."
Round five ends with Tommy Bridewell now 25 points clear after extending the difference with every race, now on a total of 217 after collecting his fourth win of the year, already more than he has achieved in any season previously.
Glenn Irwin sits second on 192. Kyle Ryde may have had a weekend to forget but the DNF from Josh Brookes saw him move back into third on 171, with the Australian just behind with 168. Leon Haslam's double rostrum visit sees him almost caught up to the duo on 164, while early season favourite Jason O'Halloran is sixth overall on 133 points.