Lewis Hamilton: "Wake-up call for us; their car looks similar to Red Bull"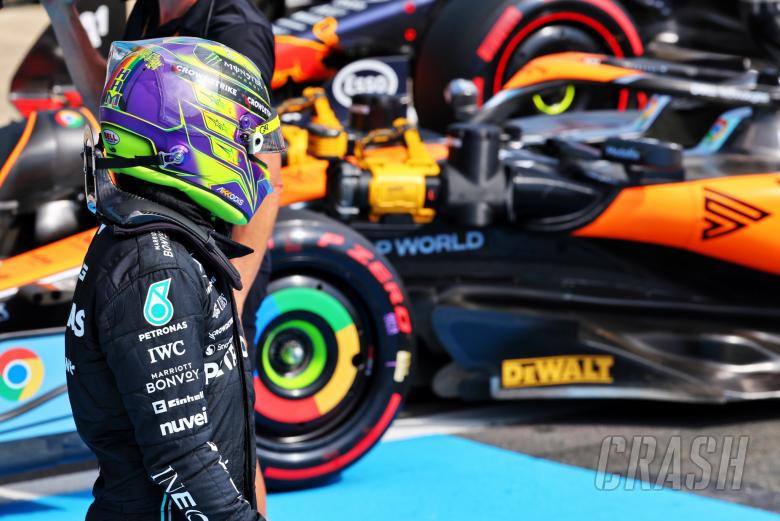 Lewis Hamilton says he is "not surprised" by McLaren's impressive performance in qualifying at the F1 British Grand Prix because their car looks "very similar" to Red Bull's.
Lando Norris was denied a shock home pole position by Max Verstappen but headed teammate Oscar Piastri as McLaren secured their best qualifying result for years. 
Asked if he was surprised by McLaren's performance after taking seventh behind Mercedes teammate George Russell, Hamilton replied: "Not surprised. If you look at the car it makes sense. 
"I'm really happy for them, they've had a bad run for so long. To be back up there is really, really great to see. " 
Pressed further on what he meant by his comments about the MCL60, Hamilton added: "Well if you put it alongside a Red Bull it's looks very, very similar down the sides. 
"And it's working, and that's great, to have them up in the mix, which is what we want to see in this sport." 
The seven-time world champion described being out-qualified by a customer team as a "wake-up call" for Mercedes. 
"It's not a blow, it's just a wake up call for us," he said. "Others are overtaking us. We need to do more." 
And Hamilton is anticipating a tough race on Sunday as he looks to move forward. 
"Of course I'll try and be optimistic and do our best but realistically I'm not sure how," he said. "We'll find out. 
"It was difficult to get past the two Ferraris and we've got two McLarens now there. Gonna be a tough race."