What did Max Verstappen, Lando Norris and Lewis Hamilton talk about in the cooldown room at F1 British Grand Prix?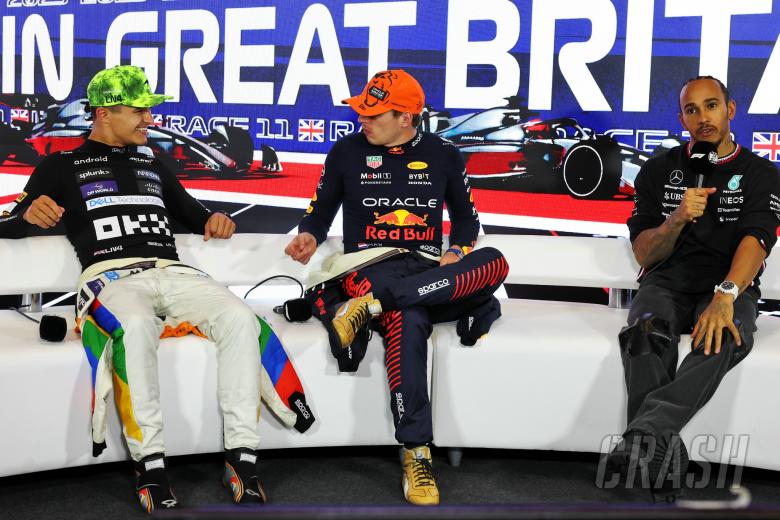 Lando Norris amusingly sat in the winner's chair in the cooldown room after the F1 British Grand Prix before defending McLaren from teases that they look like Red Bull.
Norris finished second to Red Bull's Max Verstappen, thrilling his home crowd at Silverstone by overtaking into the lead briefly on the opening lap.
Verstappen, Norris and third-placed Lewis Hamilton came together afterwards in the cooldowm room for an amusing catch-up.
"Worst thing around here is the battery," Norris told Verstappen.
The reply: "After the restart?"
Norris: "Yes, I had to use overtake so much."
Verstappen: "Spamming the button!"
Norris: "The Safety Car ruined it. We would have been P2 and P3. Oscar [Piastri] would have overtaken me."
Verstappen: "I was side by side with Oscar into Copse. I was like 'don't understeer, don't understeer…'"
Norris: "Don't do like a couple of years ago."
Hamilton entered and teased Norris: "Rocket ship! Wow!"
Norris joked back: "It doesn't even look like a Red Bull! It looks like an Aston!"
Hamilton: "When you went through 9 at high speed - wow, bloody hell, I couldn't believe it. It was just nice to watch.
"Were you far off [Verstappen] in the first stint?"
Verstappen: "Nine seconds."
After McLaren's brilliant qualifying on Saturday, Hamilton and Mercedes team principal Toto Wolff likened their upgraded car to a Red Bull.