Valentino Rossi reveals the exact moment he decided to retire from MotoGP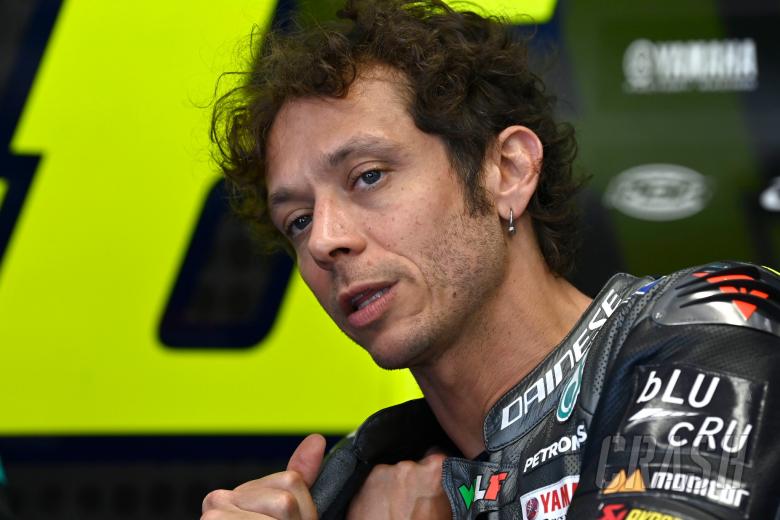 Valentino Rossi's life changed - in more ways than he expected - on the day that he decided to retire from MotoGP.
The motorsports legend finally ended his incredible career after the 2021 season, but his decision to quit came months earlier and coincided with other huge news.
Rossi explains how he came to the difficult decision to stop.
"In the last few years when I was struggling more, I also talked about it with Carlo, my trainer," he said on Gianluca Gazzoli's podcast.
"We said: 'You have to race until you really can't take anymore, so you don't have regrets afterwards'.
"There were a lot of riders who quit too soon. 
"But they couldn't stay away. They came back and messed things up."
Rossi raced on for 12 years after the last of his seven MotoGP championships.
He was 42 when the time finally came to retire.
"I decided to stop after Assen," he said.
"I wanted to race again but I said to myself: 'Let's see if I am competitive because I can't come here to finish 12th'.
"Assen was an important race because it is one of my favourite tracks.
"It is one of the tracks where I've won 10 times, so it has always been a bit of my home."
But something else was happening in Rossi's life simultaneously.
"Before leaving, I went to lunch with Francesca. She said: 'I don't like coffee anymore, strange because I've always liked coffee, maybe I'll do a test in the next few days'.
"I told her 'fine' and left for Assen. While I was there, I didn't think about her test.
"In the race I had a bad start, crashed, I was fighting with Enea Bastianini, I wrecked the bike.
"When you are in the gravel you say: 'If I need a sign to stop, it is this!'
"Imagine my state of mind because it means giving up a life that you had for 25 years."
Rossi returned to Italy knowing that his career was coming to an end, but he hadn't told anybody yet.
Bigger news was still to come.
"When I arrived I told Francesca to come out for dinner but she said 'no, you come here'.
"I had the impression that she wanted to tell me something.
"It happened all together - I found out I was becoming a father on the day that I decided to stop racing."
Rossi and Francesca had their baby daughter in March 2022, by which time the MotoGP icon had retired.