Ducati's Davide Tardozzi criticises Marc Marquez: "I don't accept what he says, what do you gain?"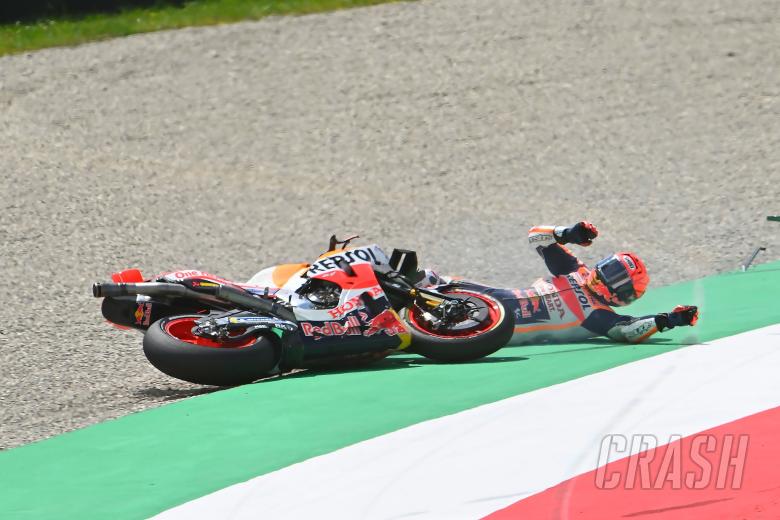 Marc Marquez's attitude of taking risks which cause crashes has been criticised by the Ducati boss who questions: "What do you gain with that?"
Marquez's 2023 MotoGP season has been beset by falls, widely believed to be the result of over-ambition on a Honda machine which cannot cater towards his obvious brilliance.
He has not completed a grand prix this year but has come under criticism from Davide Tardozzi, who claims the Honda star must change his approach.
"He tries to do more things than the motorcycle allows him to do," the Ducati team manager was quoted by AS. 
"For me he shouldn't fall and he should get the bike to the box. 
"I don't accept what he says, that he tries and falls. What do you gain with that? 
"He is a person with a very strong character and [finishing] fifth does not suit his character, but in my opinion someone should tell him that it is better to think differently. It is my opinion."
Much of Marquez's year has been spent either on the sidelines or in the gravel.
Yet he has still drawn the ire of multiple rivals, notably crashing into Miguel Oliveira and Johann Zarco.
He has also irritated Francesco Bagnaia and Maverick Vinales for his towing tactics.
"I criticise some of his actions that a champion like Marc Marquez should not do," Tardozzi said.
"From my point of view, of course, Marc says that the regulations allow him to do some things when he finds himself in difficulty that I don't see well. 
"He's right, but I think that a champion like him should be more humble and see what his level is. 
"He does not help Honda by being second on the grid at Mugello, because that was not his position for his bike and what he does does not sit well with the fans. 
"And I don't like it, because you have to respect a champion like Marc, because he's very brave.
"Really, he's one of the top five of all time and he can't tarnish his image with certain actions.
"I remember when in the past, at Mugello, he entered the pit lane following Maverick. 
"There are things that are not done and that champions should not do. 
"That is my point of view, but he is right when he says that the regulations allow it."
Tardozzi's team remain the benchmark in MotoGP's 2023 season, and Marquez is trailing a long way behind despite his illustrious history.
"Marc Marquez is not an enemy of Ducati, he is an adversary, which is different," Tardozzi said.
"Seeing a champion who is suffering is something that disgusts me."