Did Marc Marquez take unnecessary risk at Assen? "At home, it doesn't change"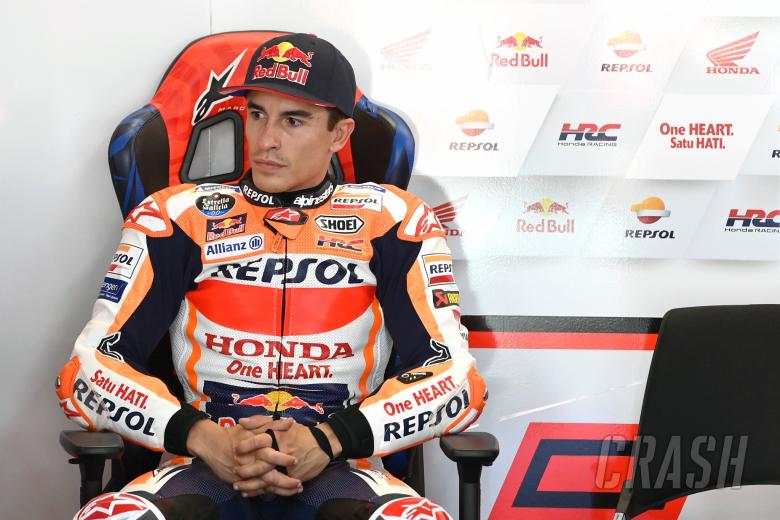 Marc Marquez may have been forced to withdraw from the Dutch MotoGP but is adamant it was not a mistake to attempt the Assen event.
Just a week earlier, the Repsol Honda rider had suffered a fractured rib and finger, plus ankle damage, in a warm-up highside - his fifth and final accident of a punishing Sachsenring weekend.
It ruled the eight-time world champion out of the German MotoGP race, but he was back on his RCV just a few days later for Friday practice in Assen.
Clearly struggling with pain from the rib, Marquez was a shadow of his usual self, managing just 19th on Friday, then 17th in qualifying and the Saturday Sprint race before the pain became too much to continue.
But Marquez didn't regret trying and insisted he would go into the summer break with 'better confidence' than if he had skipped the Dutch weekend entirely.
"It's not the best way [to go into the summer break], but it's better than how I finished in Sachsenring," Marquez said.
"In Sachsenring, I finished with a massive highside.
"[At Assen] I finished with not the best feeling, but able to ride a MotoGP bike with one broken rib and one broken finger - and even like this be 7-8 tenths behind the fastest guys.
"So this gives me better confidence than after the Sunday in Sachsenring."
Marquez added: "With the feeling of Sachsenring, to then be off the bike for two months [during the summer break], believe me, that's not the best for a rider.
"I needed to keep riding, keep going, keep trying… [Staying] at home, the situation will never change."
Marquez began the season with pole and a Sprint race podium in Portimao, but then fractured his thumb when he collided with Miguel Oliveira in the Sunday race and missed the following three rounds.
Sunday accidents at Le Mans and Mugello combined with the early exits at Sachsenring and Assen means Marquez hasn't completed a single 'grand prix' race so far this season.
Despite his reduced track time, Marquez's 14 accidents so far this season is more than any other rider.