KTM tease "surprise" over Pedro Acosta's 2024 seat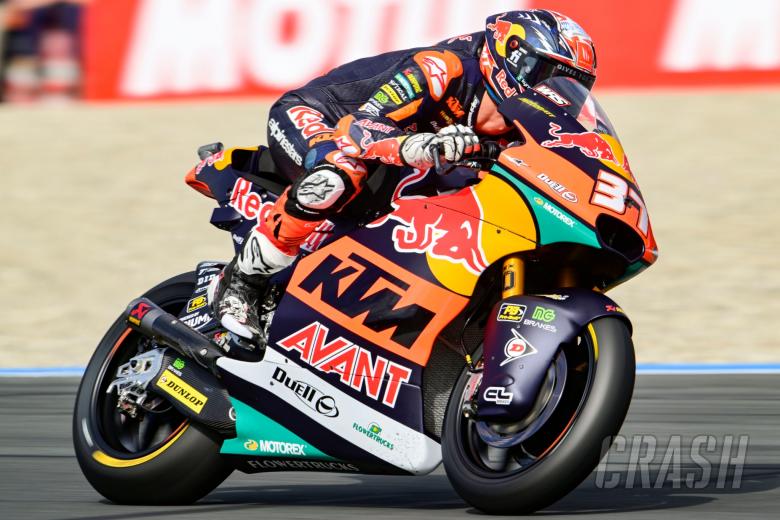 So, we know Pedro Acosta will step into MotoGP next season but his team remains unknown.
That's because KTM team manager Francesco Guidotti is still keeping his cards very close to his chest.
"Acosta will remain a KTM rider," he told GPOne.
"We had an option that we could use and clearly we did.
"It will be in MotoGP, but what team he will go to will be a surprise!"
KTM's factory riders Brad Binder and Jack Miller are both contracted until the end of 2024 making it highly unlikely that either of them will be ousted.
Their satellite team, GASGAS Tech3, looks the likeliest option but there are still some moving parts.
Pol Espargaro is also contracted for 2024, but Augusto Fernandez is not. 
Fernandez is the only KTM rider whose contract expires at the end of this season, in theory making him the most at-risk from Acosta's arrival.
But Espargaro has not yet raced in 2023 due to a crash on the opening Friday which left him with serious jaw, back and lung injuries. He hopes to return at Silverstone on August 6.
There remains the possibility that Espargaro, aged 32 and in his 10th MotoGP season, could opt to walk away and leave a vacancy for Acosta to fill.
Acosta, 19, has shone in Moto2 this season and demanded a graduation into the premier class, despite KTM's initial preference for him to remain where he is.