Alvaro Bautista: Sepang or Buriram an 'if', MotoGP wild-card 'not in my mind'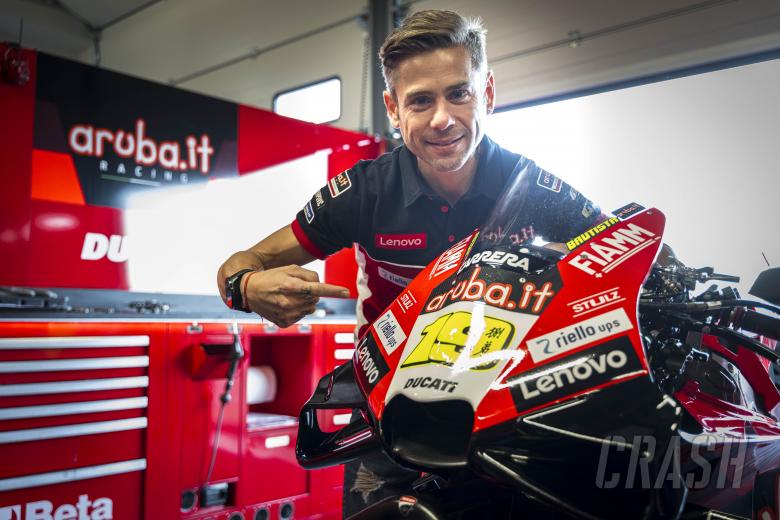 World Superbike champion Alvaro Bautista continues to play down the prospect of making a Troy Bayliss-style return to MotoGP at the end of this season.
After wrapping up the 2006 WorldSBK title, Bayliss famously made a one-off MotoGP return for Ducati in the Valencia finale - and won.
Like Bayliss, Bautista took podiums but no race wins during his full-time MotoGP career, and is currently dominating SBK for Ducati.
While Bayliss was called up at short notice to replace the injured Sete Gibernau in 2006, Bautista has already taken part in a recent MotoGP test on the now title-winning Desmosedici.
Billed as a reward for his WorldSBK heroics, there are persistent rumours Bautista could make a popular wild-card entry after the Superbike season concludes in Argentina on October 15.
Talk of a second MotoGP test has only fuelled the speculation further, but Bautista played down the significance of having answered 'Sepang' when questioned about which circuit he would pick for a wild-card.
"[Sepang] is a nice place, but it's what I say, [a wild-card] is not in my mind," Bautista said at Donington Park. "But people asked me 'if you have to choose one race to make a wild-card…'
"If I have to choose one place, it has to be after my [WorldSBK] championship finishes. So there would only be five races remaining: Australia, Thailand, Malaysia, Qatar and Valencia.
"If I have to choose between those five, I choose Thailand or Sepang because I like warm conditions. But [I said it] without plans to go there, [unless] it's for a holiday or just to watch the race or something!"
Commenting on Bautista's MotoGP test at Misano, Aruba.it Ducati Team Manager Serafino Foti had said: "Alvaro did a really good job. He was quite fast. He actually got the feeling really quickly. This surprised me. It's not easy to jump to MotoGP from WorldSBK and get this feeling."
Bautista meanwhile was buoyed by how seriously Ducati had taken the outing.
"My MotoGP test was really good because I had a lot of people from Ducati. All the test team came to do the test and also Gigi [Dall'Igna] came to see how it was. So I felt a lot of support from Ducati," he said.
"I'm so happy because I felt like it was a real test. It was not like, 'OK, take the bike and make some laps'. No. Everything was ready and prepared for me to have the best for the test and to feel as comfortable as possible.
"I just can say thanks to Ducati because I enjoyed a lot those two days... I had a lot of fun.
"'Wow, I feel so good on the bike', maybe too much!"
"The bikes are very, very, very different. The power, brakes, everything. You can stop the [MotoGP] bike very strongly in a straight line and then you have to be very careful with the gas because you cannot make a big spin with the rear tyre [on the exit]. With the Superbike it's the opposite."
Bautista put the differences down to the character of the Michelin MotoGP tyres and contrasting frame designs.
"Especially the difference between the Desmosedici and Panigale, is that the Desmosedici has a real frame. Because the Panigale is just a small frame in the front, then the engine and then the swingarm, so it's different.
"The bike is stiffer and more rigid in MotoGP. And also I think the MotoGP tyres have to have more support because of the hard braking.
"So it's a combination. For sure you feel less information from the tyre in the MotoGP, at least in the two days I did, than on the Superbike with the Pirellis. Which you can feel more, to understand the limits.
"But on the other hand, with the other tyres [Michelin] you can push harder because they support more.
"I adapted very quickly to the MotoGP style because I think it's still in my mind. So for me the second day especially was like 'Wow, I feel so good on the bike', maybe too much!"
Indeed, Bautista opted to finish the MotoGP test with some laps on a Panigale Superbike, to get back into production mode for Donington Park.
"I went back to the reality of much less power and brakes with a bit less performance. But at least I went home with the mentality of Superbike."
Bautista went on to claim his first Donington Park WorldSBK victories and strengthen his title lead to 93 points at the midway mark of the season.