Marc Marquez questions Honda struggles of Jorge Lorenzo, Alex Marquez, Pol Espargaro, Joan Mir: "Why?"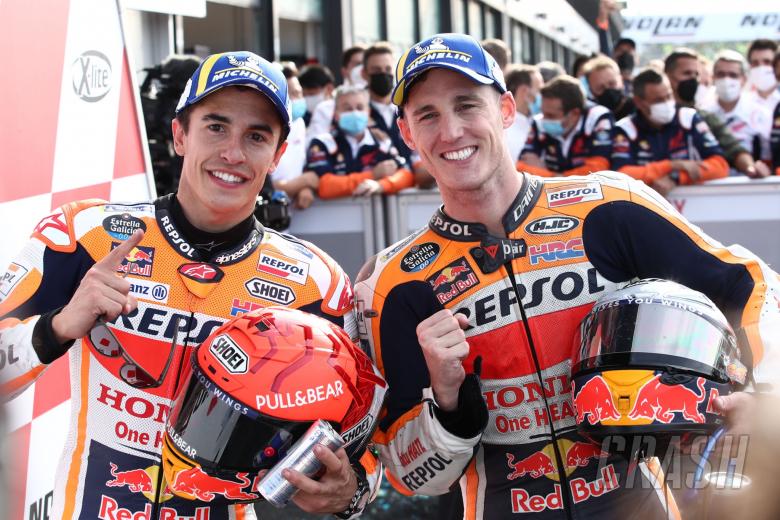 Marc Marquez said "you have to assess why" a long line of quality riders have failed at Honda.
The Japanese manufacturer is enduring a horrible season, watching three of their four riders sit on the sidelines due to injury at the most recent MotoGP round at Assen.
Marquez has won his six premier class championships with Honda, but has also seen a spate of highly-rated peers struggle alongside him.
"It has been seen that all these years great riders like Dani Pedrosa, Jorge Lorenzo, my brother Alex Marquez, Pol Espargaro, Joan Mir… have passed through here and none have achieved the expected results in the Repsol Honda team," he was quoted by AS.
"And that is where you have to assess why."
Pedrosa is MotoGP's most successful rider without a championship; he was Marquez's first teammate when the younger man stormed to the title in his rookie year of 2013.
Three-time champion Lorenzo ended his career next to Marquez but endured a dreadful campaign.
Marquez's brother Alex has looked rejuvenated since swapping LCR Honda for Gresini Ducati this season.
Espargaro finished a lowly 16th in the MotoGP standings last year and was replaced by 2020 champion Mir, who has only completed one grand prix this season.
But it is Marquez whose troubles are the most stark.
"You can't hide reality," he said. 
"As I did not hide the reality when I was injured and said that with that bike you could do a little more but I was limited. 
"My job within the team is to try to continue working to provide as much information as possible and thus get the most out of each situation. 
"This year I came to Portimao in one of my best pre-seasons. One of the most stable I've had in all aspects, and that's when I felt so strong you try to ignore that reality and fight against a wall.
"And that's what I did. I started with great enthusiasm, I took many risks and there have been many falls, in just four months I have had many injuries. 
"I need to stop, physically and mentally rebuild myself because I am in one of the worst moments of my sports career, getting rid of the injury."
Marquez hasn't been able to complete a single Sunday race in 2023, a year marred by multiple heavy crashes caused in part by his attempts to over-ride a limited bike.