Pol Espargaro: "Hurting, recovering bad side of the job", MotoGP retirement thoughts "gone"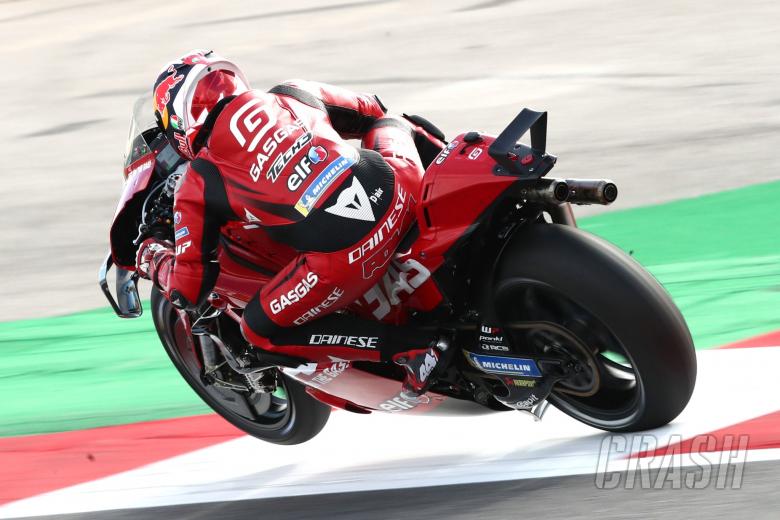 Pol Espargaro contemplated retirement during some of the darkest moments following his Portimao MotoGP accident but is now focused on a comeback and believes "I still have some speed to show".
Returning to KTM via the rebranded GASGAS Tech3 team after two rough years at Repsol Honda, Espargaro's season - and potentially his career - was thrown into jeopardy when he suffered ten fractures (ribs, neck, back and jaw) after being caught out by a cold tyre and hitting an unprotected barrier in practice for the season opener.
The gruelling recovery that followed included having his jaw wired shut for one month, causing Espargaro to lose 2.5kg of muscle a week, while the vertebrae damage has left him 1.5cm shorter.
"Yeah. That's sure," Espargaro confirmed when asked if he had considered retirement. "These kinds of injuries are big.
"This last month, I've just been looking forward to getting back on the bike. But when you are in hospital, feeling so bad and people are coming to tell you what [injuries] you have… In my situation, my wife and my two daughters… It's tough.
"But at the end of the day, it's what I do.
"I've been doing this all of my career; racing and hurting myself and recovering and going again and again. This is also part of the job. I try and see it as the bad side of this job."
The 32-year-old added: "But these moments bring you back to reality. You never think about it but when it happens, woah, this is real. It stays real for longer than when you break a finger or a hand. It's like 'OK, this is serious'.
"For sure I'm going to pay more attention during these kinds of moments when I'm going out of the box. I'm very experienced, I have a lot of years here in MotoGP but still, these kinds of things can happen, so you have to be careful."
Although Espargaro missed his target of a MotoGP return before the summer break due to one of the vertebrae needing more healing time, he will be back on an RC16 at the upcoming Goodwood Festival of Speed and then, if final medical clearance is given, in August's British GP at Silverstone.
"Yes [the retirement thoughts] have gone because now I'm looking forward to coming back," he said.
"I want to jump on the bike and see how fast I am. I believe I still have some speed to show.
"If everything is correct, [I want to] just keep pushing for the factory. They showed me so much love during these three months that they deserve good results at the end of the year."
Espargaro has a two-year KTM contract versus one year for rookie team-mate Augusto Fernandez. However, KTM is still to decide how to fit Pedro Acosta into its MotoGP line-up next season.