"Incredible! It makes me almost cry": Suzuki gives Aleix Espargaro his 2016 GSX-RR MotoGP bike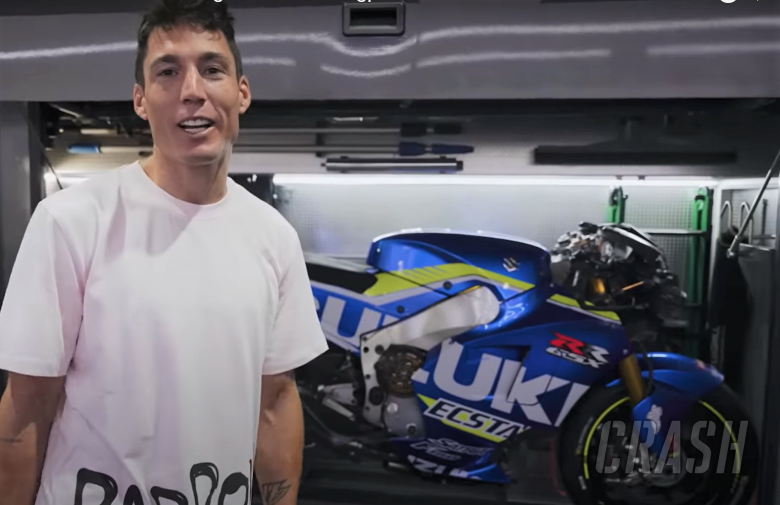 After four seasons as a satellite rider, Espargaro got his big factory chance when he was selected, alongside rookie Maverick Vinales, to headline Suzuki's 2015 MotoGP return.
The #41 took the bike to a pole position and best race finish of fourth over the next two years, after which Suzuki switched to an all-new line-up of Andrea Iannone and Alex Rins.
Vinales, who took the GSX-RR's first MotoGP win, joined Yamaha while Espargaro began a long relationship with Aprilia, helping bring the RS-GP project from the back of the field to a 2022 title contender.
The GSX-RR was picked up from Suzuki's former European HQ in Milan following the recent Assen round (see video below):
"It is one of the gifts that has made me most excited in my entire life!" said Espargaro, before revealing the GSX-RR.
"It makes me almost cry, incredible goosebumps," he added, before thanking Suzuki project leader Shinichi Sahara, Davide and Roberto Brivio plus senior management at Suzuki Motor in Japan.
"People say it was impossible, they never give or sell MotoGP bikes, but I have a very good relationship with them and had been pushing them since I left Suzuki for Aprilia.
"They always said 'no, no, no!" But when they retired [from MotoGP] they contacted me and told me I could have the motorcycle with which the project began, which Maverick won a race with and a later Alex Rins, and Joan Mir the world championship. So it was a thank you for having started the project with them.
"When they told me I thought it was a joke! And after 2.5 years of contracts and paperwork with Japan here is the 2016 GSX-RR #41 and it will be on display next to my Aprilias!"
Suzuki also gave Espargaro several different fairings, including his very first experience of wings in MotoGP.
After sitting on the bike, Espargaro notes how small and narrow the screen and fairing is compared with the current 'aero' bikes. "It looks like a Kalex Moto2!" he says. "It is incredible how much they have evolved… But the GSX-RR still seems impressively beautiful.
"Suzuki were the first factory to believe and trust in me, changing my life and my family's life forever. Thanks to [getting that chance] I've gone to Aprilia, winning a race and podiums.
"So for me this bike is very special."
Suzuki shocked MotoGP by withdrawing from the premier class at the end of last season.
Meanwhile Vinales has been reunited with Espargaro at Aprilia since late 2021.