Jack Miller "pissed off we don't have four MotoGP races in a row! First half unreal"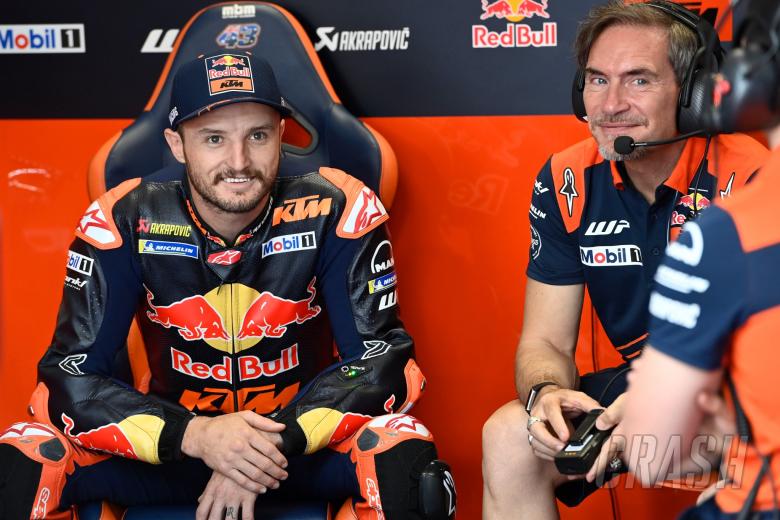 While most riders were grateful for the start of the MotoGP summer break, an early exit in Assen left Jack Miller wishing it was four races in a row.
Twelfth on the grid after technical issues in qualifying, the Red Bull KTM rider could only salvage eleventh in the Sprint.
But he made a much better start in the main race, reaching seventh by the end of the opening lap - only to fall while trying to cut back under Maverick Vinales at turn 1.
"Our bike's super solid and I'm looking forward to the second half of the season. I'm just pissed off that we don't have four races in a row!" Miller said.
The Australian is currently seventh in the world championship, matching his position heading into last year's summer break as a factory Ducati rider.
Reflecting on his opening eight events in 'orange', from which he has taken three podiums (two Sprints and one GP), the former Honda and Ducati race winner said:
"The first half of the year has been unreal, we've had a bike fighting there every weekend, whether it's myself, Brad or even Augusto.
"So we can be very happy with what the bike's doing. We'll come back to Silverstone in full force, recharged and be ready for the back end of the season."
After a low-key winter, the RC16 has emerged as Ducati's nearest challenger.
"Watching Brad send it into the last corner, you got to really see how good it is on the brakes," he said. "But the bike's not only good there, it's good in the drive, it's good in the high-speed corners..."
Binder, who lost a double podium at Assen after exceeding track limits on the final lap of both races, is fourth and top non-Ducati in the world championship standings.