Revealed: Alberto Puig's brutally honest reasons for Honda's fall from grace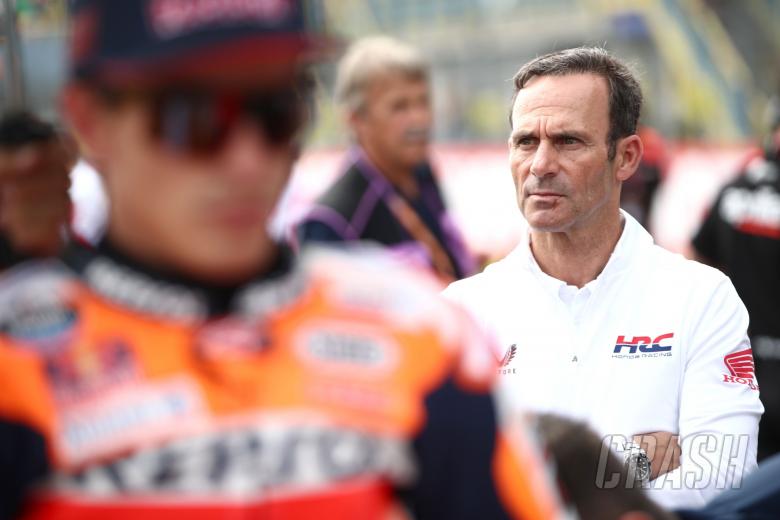 While stressing that it didn't happen overnight, Alberto Puig cites the Covid pandemic and Marc Marquez's arm injuries as the main 'coincidences' behind Honda's 'downhill' MotoGP fortunes.
Highlighting that the same in-trouble team had done "something good" prior to 2020 – Marquez winning six world titles and Honda 69 races during the same period, with four different riders - the Repsol Honda team manager admitted:
"I think, if you look back at 2020, we had Covid and we had Marc's injury. And from then on it was just downhill."
While Marquez's injury complications, partly caused by an early comeback attempt, saw him sidelined until round three of the following season, Covid travel restrictions compromised HRC's development process.
Of course, European manufacturers were also affected by work-from-home type practices and the pandemic took a far greater human toll on Italy than Japan.
However, the Japanese clearly faced a greater geographical hurdle during the European-only 2020 and almost flyaway-free 2021 MotoGP seasons.
Nonetheless, Honda's rivals coped with it well, Suzuki won the MotoGP title in 2020 (with Joan Mir) and Yamaha in 2021 (Fabio Quartararo).
"Marc's situation was really complicated from a rider point of view with his injuries, but also from the company point of view it was not so easy for our engineers to travel back to Japan, so they had to stay in Europe," Puig said.
"They could not develop the bike as they were used to doing in the past because they were not going back [to the factory] and exchanging so much info. So suddenly in this type of [covid] racing activity you lose this, but it's this.
"So suddenly one day you go out there and you lose two tenths, then four tenths, then one second and then you are history. I don't think it has been some particular moment, but a progressive coincidence of issues that brought us to this current situation."
The normal MotoGP calendar format did not return until 2022, while Marquez's right arm took until the start of 2023 to regain strength and movement, with two cases of diplopia to overcome as well.
Honda suffered a cliff-edge drop in race wins when Marquez was injured and the pandemic began (and was also winless in 2022).
But in terms of different race winners on the RC213V, the decline began much earlier, after 2016, when Marquez, Dani Pedrosa, Jack Miller and Cal Crutchlow all took victories.
Honda has taken one win this season, a shock victory by Alex Rins at COTA, but its next-best Sunday result is eighth place.
The injured Rins remains the top Honda rider in the riders' standings, in 13th, with Honda fourth in the constructors' standings and just 7 points clear of bottom-of-the-table Yamaha, which now has only two bikes.
Honda – MotoGP wins per season 2013-2022
2013: 9 wins (2 winning riders, Marquez champion)
2014: 14 wins (2 winning riders, Marquez champion)
2015: 7 wins (2 winning riders)
2016: 9 wins (4 winning riders, Marquez champion)
2017: 8 wins (2 winning riders, Marquez champion)
2018: 10 wins (2 winning riders, Marquez champion)
2019: 12 wins (1 winning rider, Marquez champion)
2020: 0 wins
2021: 3 wins (1 winning rider)
2022: 0 wins
2023: 1 win*
* After eight rounds.
"No night-and-day solution"
The pragmatic Puig warned Honda's return to the top is likely to be just as gradual as its decline - with the current spate of rider injuries making the process even harder.
"It's clear that it's not a good moment. I mean, when you have three riders injured and in and out of hospital, and with the problems[with the bike] that we are facing lately. To turn the thing from night to day, I don't think it's going to be possible," said the former grand prix winner.
"The truth is that we are facing problems not only this year, but the past years also. So it's really not been easy at all. We still could not find a clear solution.
"It's not that we are not trying. But it's that we are not really going to the point [root cause] and solving it. The situation is really not good at all and the only thing we can do is keep trying to somehow come out of this moment."
"We are quite back. It's obvious and there's no question mark. So to fix it from now in two months, frankly speaking, I think will not be an easy task to do," he added.
"It's clear that if you don't try things in life, you never know. But it will be very, very optimistic to think that we can have, let's say, a high-performance bike in two months.
"The only thing that we can do - and I know that they [HRC] are trying to do - is to try things and to see if we can really go to the point [of our problems] because we never got there in in the past."
The most obvious sign of HRC's efforts to improve have been the signing of ex-Suzuki technical boss Ken Kawauchi and the introduction of a Kalex-built chassis.
But Kawauchi's influence will not be seen until the 2024 machine, while the degree of design freedom (if any) Kalex was given is unclear.
Were Kalex simply told to manufacture a chassis exactly to a spec provided by Honda, or were they allowed to suggest and implement changes?
Worryingly, after several rounds on the Kalex, Marc Marquez and then Takaaki Nakagami began switching back to the HRC version.
"We have to react faster"
While Honda riders have spoken of a lack of feeling, rear grip and low speed turning, forcing them to take big risks just to stay in touch with their rivals, in cultural terms it's the opposite: The Europeans are prepared to take greater engineering risks than the Japanese.
"The [European] manufacturers in recent years were very aggressive," Puig said. "They took a lot of risks. Risk means that you can make mistakes, but they accept the mistakes.
"Probably the Japanese tradition is more conservative and with the new regulations [reducing testing] they should probably - based on the results, because the results are the indicator of what's going on - change a little bit the approach.
"[The Japanese] have very, very good things. But probably they have to change and probably be more reactive than they used to be.
"It's true that it's more difficult to react fast if you are in Japan than if you are in Europe. But finally, it's like this. I mean we have to try to be faster and react faster."
The other option to consider is that Marquez, after so many injuries and at 30-years of age, might not be able to deliver the old magic that patched over Honda's deficiencies in the past.
The Spaniard, who took pole position and a Sprint podium before slamming into Miguel Oliveira in the Portimao season opener, feels the opening practice timesheets at favourite tracks like Sachsenring suggest otherwise.
"As you could see in Practice 1, my natural riding is there and I was in second position," Marquez explained at the German GP, where he had been unbeaten in 11 prevous occasions.
"But the problem is that when you have that natural riding [advantage] at a circuit, you arrive very quickly at the limit, but then later the others start to arrive at your limit and then pass that limit.
"So [after] I was struggling. Normally with the Honda that I remember we were very fast in the slow corners, in the turning. But now with this Honda, we are very fast on the fast corners, like for example Mugello, but we are losing on that turning."
Marquez, contracted to Honda until the end of next season, hasn't won a MotoGP race since Misano 2021.
Team-mate Joan Mir is aiming to return from injury after the summer break, with Alex Rins' comeback from a broken leg TBC.
MotoGP's concessions rules could be tweaked to aid Honda and Yamaha in returning to a more competitive level against the European brands.