Brad Pitt reveals F1 movie storyline, and Lewis Hamilton's input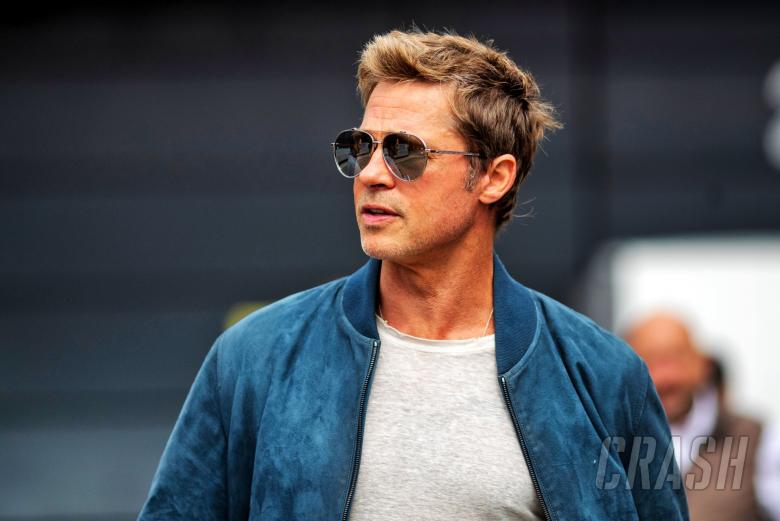 Brad Pitt has spoken about his Formula 1 movie's storyline, described his character, and detailed Lewis Hamilton's input.
The F1 British Grand Prix at Silverstone partly became a film set this weekend as Pitt and crew filmed crucial scenes on the track.
The Hollywood superstar gave an interview to Sky and described the plotline to the movie.
"I'm a guy who raced in the 90s," Pitt said about his character, called Sonny Hayes. 
"He has a horrible crash. He disappears, racing in other disciplines.
"His friend is a team owner. They are the last-placed team. They are 21 or 22 on the grid, never scored a point.
"They have a young phenom, played by Damson Idris, who brings me in as a Hail Mary.
"My character would have raced in Le Mans and Daytona."
Mercedes F1 driver Hamilton is the co-producer of the movie, and Pitt explained his involvement.
"Lewis was really intent that we respect the sport, and show it for what it is," he said.
"As a civilian, I had no idea what it takes to be a driver. The aggression, the dexterity, they are amazing athletes and I have so much respect for everyone out there, in all classes."
He insisted about some of the camera angles: "You've never seen speed or G-force like this. It's really exciting."
Pitt said about learning to drive a racing car: "I took a few tours, unintentionally, through the grass! It has been such a high."
But he denied being nervous to drive at Silverstone in front of a live crowd: 
"No, I wasn't. The guys prepared me well. There were a couple of corners where I saw the sand. On the straights you have time to look around."
The actor added: "I'm a little giddy right now! It's great to be here. We're having such a laugh. It's the time of my life.
"To be a part of it in this way? To tell our story? Everyone has been cool with us, the teams have opened their doors to us, the FIA have been really helpful, F1 and Stefano Domenicali, everyone has been amazing."
The F1 paddock has included an 11th team this weekend - Pitt's fictional APXGP.
They have their own garage set-up and Sky presenter Bernie Collins was involved in helping them to accurately set it up like a genuine F1 team's.
The movie is untitled at this moment but the rights are owned by Apple TV.