Explained: The Austrian GP track limits fiasco that made F1 look ridiculous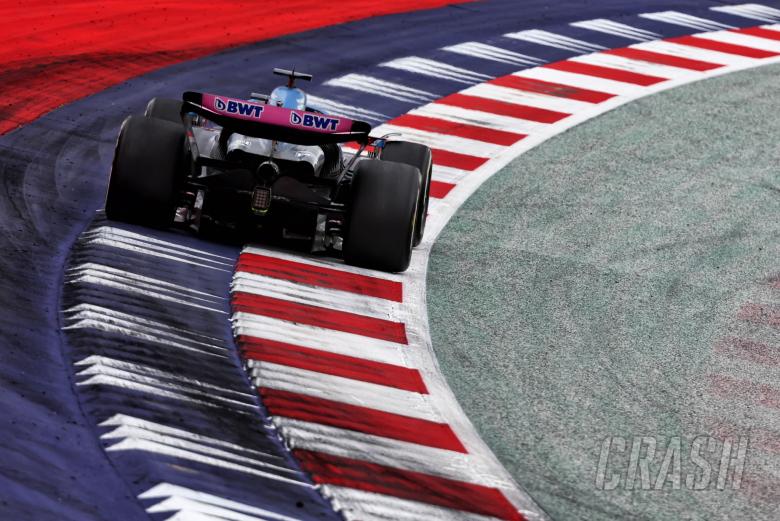 F1 was left red-faced after a track limits saga and subsequent post-race protest from Aston Martin threw the result of the Austrian Grand Prix into a state of flux.
A final classification was not issued until five hours after Red Bull's Max Verstappen took the chequered flag to claim yet another victory in what is turning out to be a truly dominant campaign.
Following a lengthy post-race stewards' investigation, 12 extra penalties were dished out to eight drivers, changing the result. 
But how did F1 get tied up in a shambles over track limits? We've unpacked everything that happened on a chaotic day in Austria…
But first, what are the track limits rules? 
The track limit is the white line which defines the edge of the circuit, acting as a boundary for the field of play, similar to the markings on a football or rugby pitch. 
Track limits are imposed to ensure drivers do not gain an unfair advantage by finding a faster route around the circuit, while they also act as a safety feature. 
Track limits vary from race to race depending on the nature of the circuit but drivers are deemed to have exceeded track limits if they put all four wheels over the defined boundary - usually the white line. 
Article 33.3 of the Sporting Regulations reads: "Drivers must make every reasonable effort to use the track at all times and may not leave the track without a justifiable reason.
"Drivers will be judged to have left the track if no part of the car remains in contact with it and, for the avoidance of doubt, any white lines defining the track edges are considered to be part of the track but the kerbs are not.
"Should a car leave the track the driver may re-join, however, this may only be done when it is safe to do so and without gaining any lasting advantage. At the absolute discretion of the Race Director a driver may be given the opportunity to give back the whole of any advantage he gained by leaving the track."
What penalties are handed out for offences? 
Multiple cameras and sensors are installed at each circuit to keep track of any violations. 
Breaches that occur in practice or qualifying will result in a driver seeing their lap time get deleted. 
This was a major talking point of Friday's Austrian Grand Prix qualifying, which saw 47 laps deleted for track limits abuse. Sergio Perez lost three of his laps in Q2 for exceeding track limits and failed to progress to Q3 for the fourth straight race. 
For the grand prix itself, a different approach is taken. Drivers are given a warning by race control for their first two infringements, before being shown a black-and-white flag on their third indiscretion. 
A fourth offence will automatically trigger a stewards' investigation and usually results in a five-second time penalty. Further infringements will be hit with extra time penalties. 
What happened in the 2023 Austrian GP?
Lewis Hamilton was the first driver to be penalised for exceeding track limits during Sunday's race. 
The seven-time world champion found himself at the centre of Lando Norris' barrage of complaints as the McLaren driver provided running commentary on Hamilton's off-track excursions. 
Hamilton protested that his Mercedes car "wouldn't turn" but he was slapped with a five-second time penalty for repeated offences. Following his penalty, Hamilton was heard reporting many of his rivals for going off-track, including Norris and Perez. 
Ferrari's Carlos Sainz was another high-profile track limits offender who was punished by race control during the race. 
Multiple track limits warnings were issued but out of the 20 drivers, only Mercedes' George Russell and Aston Martin's Fernando Alonso escaped without comitting a single violation. 
Aston Martin's protest amid 1200+ offences 
Shortly after the race concluded, Aston Martin confirmed they had lodged a protest against the provisional race classification. 
Aston Martin initially remained tight-lipped over the exact reason behind their appeal, but the FIA soon confirmed the team had claimed a number of cars were not properly penalised for repeatedly breaching track limits. 
Their protest was successfully upheld by the FIA, who admitted that race control was unable to review every report of track limits violations, revealing there were "well over" 1200 individual cases across the 71 laps. 
F1's governing body said they were already holding an immediate post-race review into the incidents prior to Aston Martin's appeal, describing the situation as "unprecedented". 
Final race result changes 
Having concluded their investigation, the FIA handed out an additional 12 penalties, taking the total of track limits penalties up to 20 for the race.
Sainz and Hamilton were among the most notable drivers to be demoted, with 10-second penalties applied to their respective finishing times.
Sainz fell back two positions from fourth to sixth, dropping him behind Norris and Alonso, who was elevated to P5. 
Hamilton, who finished seventh on the road, traded places with Mercedes teammate Russell as he slipped to eighth. 
Alpine's Esteban Ocon copped a huge 30-second time penalty for four separate offences, while teammate Pierre Gasly, Williams duo Alex Albon and Logan Sargeant, and the AlphaTauri pair of Nyck de Vries and Yuki Tsunoda were also punished. 
The stewards explained the retrospective penalties had been applied as follows: 
For four infringements, a five-second time penalty; for five infringements, a 10-second time penalty.
Then a "reset" has been allowed due to the excessive number of infringements. The counting of infringements restarts. After another four infringements, a five-second time penalty will apply; after five, a 10-second time penalty.
The successful protest ultimately gained Aston Martin an additional three points, with Alonso and teammate Lance Stroll each being promoted one position.
As a result, Aston Martin have closed to within three points of second-placed Mercedes in the constructors' championship standings. 
How will F1 avoid a repeat in future?
The debate over track limits has been a dominating talking point in Austria for many years due to the nature of the corners at the Red Bull Ring. 
Several solutions are used to deter drivers from running wide, with some corners featuring sausage kerbs, and others having gravel traps or asphalt run off areas. 
Turns 9 and 10 were at the heart of the track limits drama surrounding the 2023 Austrian Grand Prix. At these high-speed right-handers, drivers are able to run wide and potentially gain an advantage. 
Following the events of the weekend, the FIA has urged the operators of the Red Bull Ring to install gravel traps at its final corners. 
"In order to address the issue for future events we will renew our recommendation to the circuit to add a gravel trap at the exit of turns nine and 10," they said.
"We note that while this is not a straightforward solution in relation to other series that race here, it has proved to be very effective at other corners and circuits with similar issues."
Expect track limits chatter to continue to be the talk of the paddock heading into this week's British Grand Prix at Silverstone.