Takaaki Nakagami: 'On that day, I decided my future!" - Exclusive Interview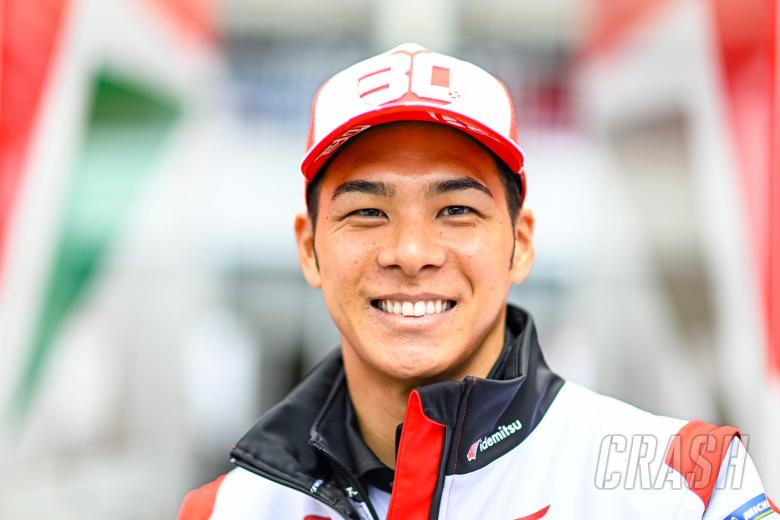 At the age of nine, future MotoGP rider Takaaki Nakagami faced a big decision. Follow his parents into karting or focus his future on bikes.
Each MotoGP rider takes a unique path to the premier class. A mix of opportunities, hard work, chance and career-changing decisions.
In the case of non-European riders, that road can be especially challenging.
In an exclusive interview with Crash.net, Takaaki Nakagami, the only Japanese rider on the MotoGP grid, explains how he progressed swiftly from pocket bikes to grand prix - then went back to Japan to start again…
Crash.net: How did racing begin for you, what was your first experience of bikes?
Takaaki Nakagami:
I started when I was four years old. My parents are big fans of motorsports. Not only two wheels, which then was 500cc, but mostly four wheels like Formula One. My parents love motorsports and actually, my parents really pushed for me to go into four wheels.
Crash.net: So what happened? Did you try four wheels?
Takaaki Nakagami:
Yeah, but when I was four years old, my parents were still racing themselves in karting. Just for fun. When they went racing I had nothing to do, so my parents got me a pocket bike and let me ride inside the parking area. That was how I started on two wheels.
Crash.net: Did you instantly like the pocket bike?
Takaaki Nakagami:
My parents told me that the first time I rode, I was not able to even go straight! But at that time there was no option for someone my age to try karting. You had to be older. So the only option for my age was two wheels.
Then when I was nine years old, we went to a racetrack where in the morning we had a two wheels practice and in the afternoon a four wheels practice. So that day, I decided on my future! Because I did both sessions and I chose two wheels.
Crash.net: Why did you decide on two wheels?
Takaaki Nakagami:
It was an easy decision because I'd started at four years old and, after five years of riding experience, I was used to the riding position and everything felt natural for me on a bike.
But I'd only tried four wheels one or two times before and the driving position is completely the opposite! Leaning forward on a bike, compared to leaning back with your feet forward on the kart.
So on the kart, the seating position, the view and how low you are to the ground, were difficult for me to understand.
Actually, my first impression of four-wheels was that it's too much risk! My parents said, 'you have something missing!' because most people feel safer on four wheels. But I felt completely the opposite. Riding didn't feel dangerous for me. With two wheels everything felt natural.
So from that day, I stopped thinking about four-wheels. Also my parents said, 'Okay, from now, only bikes'. So that was the moment I decided on what I wanted my career to be. After that, we were fully focused on two wheels.
Crash.net: How did your riding style develop?
Takaaki Nakagami:
Some of my riding style was just natural, but I worked a lot to improve myself and also some friends helped. But this advice was not from my parents, because as I said, they had a lot of four-wheel experience but nothing on two wheels.
For both of them, their four-wheel passion was also their job. My father was a mechanic and my mum was a taxi driver. They didn't know how to ride a bike, but we worked together as a family and, as I grew up, I got faster and faster.
I won many races in Japan, stepped up from 50cc to 125cc and then I moved to the Spanish championship.
Up until the Spanish Championship, my career was always improving and going upwards. I'd won most of the races in Japan and so I wanted to go to Europe. But I couldn't imagine what would happen - because in Japan it wasn't easy to win, but in most of the races, even if something happened, I was on top.
Crash.net: How hard was it when you suddenly came up against riders that were faster than you?
Takaaki Nakagami:
Oh, so difficult. Honestly, the first impression was a big shock. Because, as I said, in Japan I was always winning and then suddenly I arrived in Spain and it was very difficult to get into the top 10.
I was like, 'Ooof'. Before leaving Japan, my feeling was 'OK, I'm strong. Maybe I can also beat the Spanish riders', but the reality was not.
Crash.net: What was the difference compared to racing in Japan?
Takaaki Nakagami:
The racetracks in Japan were more clean. No bumps. And always very high grip. You didn't really have to think about the track conditions.
But the Spanish Championship tracks were nothing like the World Championship tracks, for example, where they clean everything. The Spanish Championship was not like this, quite dusty, and also so many bumps. Completely the opposite of Japan.
It was very difficult to adapt to these conditions. I didn't know where the limit was and so I couldn't find the limit of the bike and also myself. I wasn't able to show my real potential.
Crash.net: How did you overcome that in the end?
Takaaki Nakagami:
I was in the MotoGP Academy, so Alberto Puig was like a team boss, and he helped me a lot.
Crash.net: What did Alberto Puig advise you to do?
Takaaki Nakagami:
Well, he's a strong character. He's always yes or no. Clear. If I had something wrong or something that means I'm not able to bring that maximum performance out of myself and the bike, he would point and say: "OK, conditions are like this, but you have to believe in your potential and you have to try. A crash is OK, but you need to know, 'I did my maximum performance'. You have to not think about 'the limitation is here'. Try to always improve yourself."
This was the advice from him. OK, it was not easy to do! But little by little, I started to understand, also with the mechanics and my team helping with the riding style and bike set-up. Because I was still young, my experience was not high.
But it takes a lot of time. It was not easy. Even in the Spanish Championship, I got only a few podiums. I couldn't win a race. And then after two years, I moved to the World Championship in 125GP with an Aprilia. But in those days some teams had factory bikes and it was a big difference [to the standard bikes].
Even if you made a good race, you could not even think about the podium. I could think only about getting a top ten if something happened in front. But the gap was massive and it was a really tough moment.
During those two years in 125GP [2008 and 2009], I was not able to get good results [best of fifth place]. So then I went back to the Japanese championship.
'Most people said 'Taka is over. That's it''
Crash.net: Was going back a hard thing to do?
Takaaki Nakagami: Oh yeah, it was a tough moment stepping back to Japan. Most of the people around me, and the journalists, said: 'Taka is over. That's it. He was super fast in Japan, but in Europe and the World Championship he didn't do anything'.
They were right, I couldn't do anything, but I also couldn't accept that was it. Because the bike was different [to the factory bikes] and I did not have much experience, I was still only 16-17 years old.
It was a really tough moment, but at the same time, I needed to restart my career. Step back to the Japanese Championship, but also change category to the 600. The new four-stroke era had arrived.
And I said: 'OK, don't forget those four years in the Spanish Championship and the World Championship were really great experience. So now try to analyse and plan how to come back to the World Championship'.
I really wanted to go back after just one year, but I took two years. I won the title again in the 600 and at the end of that year, 2011 in Motegi, I had a big opportunity to be a replacement for Claudio Corti at Italtrans.
I didn't know about a Moto2 bike, but I knew this was a really big chance. I knew I had to push. Then after the Motegi weekend, the manager of Italtrans asked me to come to the winter test in Valencia and said that after the test 'we will decide' [for 2012].
Crash.net: Quite a lot of pressure...
Takaaki Nakagami: Yes! But I knew I had already passed the first opportunity because they were still thinking about me after Motegi. I was grateful and after the Valencia test, they asked me to race for them the next year.
So then I was back into the World Championship, this time with Moto2. It was good. It took a little bit of time, some ups and downs. But Italtrans was a really great team, a really big family.
Then after two years I moved to Team Asia. Also some ups and downs, some years good and then down the year after.
Crash.net: Why was that?
Takaaki Nakagami:
I don't know why. I was with the same team, of course sometimes there would be a change of some mechanics, but the team worked well. But somehow we lost the way. I don't know. It takes time.
But from 2015 and 2016, I started to show my potential, winning some races and more podiums.
Crash.net: Did you hesitate when you were offered the MotoGP chance for 2018? Did you think 'Is now the time?' or was it a 'yes' straight away from you?
Takaaki Nakagami:
During 2017, it was not like Honda said 'Next year you have to go to MotoGP', but I started to feel that they were thinking about me for MotoGP. I was really happy.
Also, by 2018, there had been several years with no Japanese rider in MotoGP. Honda was pushing a lot to have a Japanese rider in MotoGP again, I had shown the speed in Moto2, so everything came together at that moment.
Of course, every day is not perfect, but I can say that personally, I'm really happy with my career and with riding now for LCR Honda in MotoGP.
Crash.net: You're now in your sixth year in MotoGP and, like Marc Marquez, have only ridden for Honda. It's difficult for Honda at the moment, but does it boost your confidence to see your former team-mate Alex Marquez fighting for podiums on a Ducati?
Takaaki Nakagami:
Well, I don't think about riders at other manufacturers.
For two or three years we are suffering and we [Honda] are not the best bike. But we are working a lot, especially this year. So little by little, we are closing the gap.
Now we need to develop the bike to get Honda back to the top. This is the target for me.